What have the Choctaw Nation, Germany and an Irish American lady got in common? The answer lies in the fibre of this month's Getting to Know You treasury.
This month, Etsy Ireland Team shares our Getting to Know You spot with Auld Irish Artisans, UK & Ireland Team plus special friends who have helped us this year. See our blog Thursday 13th to find out more ... http://etsyireland.blogspot.ie/index.html

Here is the breakdown of who our featured guests are and why they were chosen to share this treasury...


Martina and Regina
Let's go back to one crazy weekend last summer and the hugely successful
treasury blitz
with our German friends,
Promo Team De
. Over two days, between us we produced more than 200 shared treasuries. Martina of
Art Decoratif
was the driving force behind the German efforts. Regina of
CharmeCharming
was proclaimed challenge Champion not only for participating but for tirelessly clicking, sharing and commenting on as many treasuries as she could. (Lets not forget our own Champion,
Petra
, who turned out a whopping 35 treasuries!)

Lynn Corrigan
of Lynn's
Creative Crochet
has to be one of the most prolific treasury makers on Etsy. This warm and friendly Irish American lady is a great promoter of Etsy shops around the globe churning out list after beautiful list. I'm personally grateful for being included regularly. I often spot fellow team members in the mix. Thanks Lynn!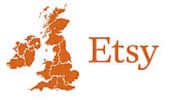 Many of our team are also members of
Etsy's Uk & Ireland Seller Support Team
. If you are not, it may be worth considering. This huge team, almost 5000 members strong, is there for Etsy shop owners located in the UK and Ireland. It provides a space for us to exchange information and help each other out, while avoiding self promotion. Find the team on Facebook
HERE
and you can sign up to the team
newsletter.

Paula and Nuala
Representing their team, we have included Paula of
Altered Eras,
who is based in England and is a team leader. And please say hello to Nuala of
Little India Holistics
in Belfast.

At this time of year it is nice to give a nod to the Irish diaspora, including the
Auld Irish Artisans
on Etsy. Many of our team are also in this growing group. This team welcomes Irish and non-Irish Etsy people who love Ireland and all things Irish. Well, you can't go wrong with that ;-). You can also find them on
Flicker
.


Kate and Meagan
Representing this team, we have Kate of
Bridget Fainne
, one of the team leaders and Meagan of
Dusty Shamrock Studio
(She's the one who can't keep calm because she's Irish and sure, would you blame her? Neither can we, we're so excited it's nearly Paddy's Day!)

This brings me to our last, unusual guest and that is Grace of
Black Bears Bazaar
. I say unusual as I included her just for one treasury,
True Irish Treasures
, sent to us from across the pond. Or rather, it was because of her story and our shared heritage. Grace has Irish blood in her veins but also is
Choctaw
. She reminded me of the link between her ancestors and ours. I thought it a heart warming story to end this article.
During the
Great Irish Famine
(1845-50,) the Choctaw Nation, who are known for their generosity and commitment to helping others, heard of our plight - or better said,
blight
Though they did not have great wealth, in 1847 the Choctaw people of Oklahoma took up a collection to help the starving Irish millions of miles away. The (then) grand sum of $170 was sent on to the US Famine Relief organisation for our fore-bearers' benefit. This was one of the most significant single donations made to the relief fund.
In 1992 a plaque dedicated to the Choctaw Nation was unveiled at the Mansion House, Dublin.
Scroll down through this link from the Mansion House to see the plaque.
Again, thank you to all who have supported Etsy Ireland team in any way to date.
May I wish a Happy St Patrick's Day to all of you, wherever you are in the world!