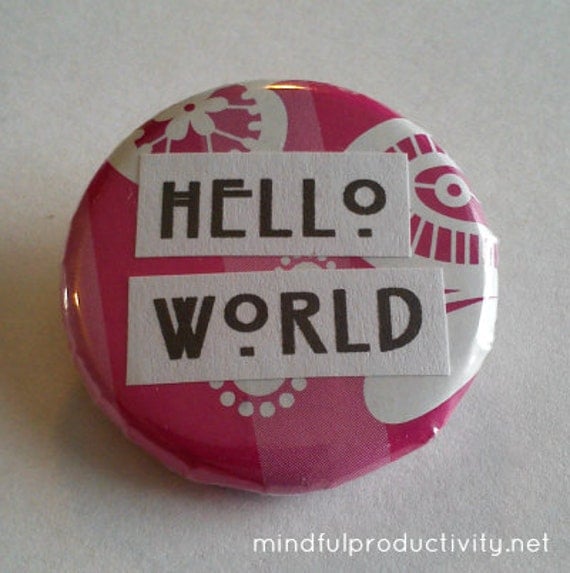 Hello World badge, by Mindful Productivity, Ireland
WOW, GO TEAM!
We've really rocked this
treasury blitz challenge
, together with the German team
Promo Team De
and it's not over for a few hours to come!! If you've not joined in yet, please come along and take part in the fun! Here's an update so far on how we are doing...Let's start by showing you the first treasury that kicked it off:
Beautiful items from Germany and Ireland

The cross team, 50-50 treasury challenge was to take place yesterday and today, but some of us couldn't contain our excitement and started close to midnight on Friday night. Petra of
Petra's Creations
gave in first and posted this colour explosion of beautiful flowers late on Friday evening. I have to give Petra a special mention having churned out a steady stream of treasuries all day, each more beautiful than the last. So much so, that in her own words, 'I'm going to turn into a treasury myself....'
A number of us followed suit and in the morning, our German friends took us on and blitzed the daylights out of treasuries...literally. All day long yesterday there was steady stream of gorgeous lists by both teams.

It is almost as if we are taking it in relays, depending on our cultural and individual rhythms of the day. Some members have had time to make several. Some have made their very first treasury in order to take part. Well done to all!
Having been out during the day and for dinner, I came back around 9pm to discover a whopping
82 treasuries
had been made! I wondered would we make it to 100 by midnight GMT.
And at
11.55pm GMT we reached

100
...actually, 101, but I suspect someone released treasury number 100 from draft format, which buried it somewhere further back and bumped us over the line before we all turned into pumpkins! Thank you whoever that was!
I don't know if it was my broadband or the Etsy site undergoing some updates, but things slowed down and pasting, and clicking and commenting became so sluggish I wondered had we actually broken Etsy treasuries!
In terms of
treasury hotness,
as I write there are 3 of the German treasuries on the first page and 3 more on the second page. Our hottest at the minute is by Annarita:
... I like mine with a kiss! :)Beautiful items from Germany and Ireland! xx

You can help make this crackin' treasury super hot by clicking on the items, commenting and hearting the list.
Everyone who has taken part has said they are having huge fun. Many of us have noticed a humungous soar in views and hearts on our listings.
It's not too late to join in at any time today just follow
the rules
and then post your treasury in
the assigned thread