Hello Crafty Peeps
This weeks Eyes Open Ireland
is brought to you by Anne-Marie from
byAMOR
Anne-Marie says.......
Instead of trying to dig up several useable photos of one beautiful place, I thought I'd share a collection of scenes that inspired me this past year.
Though much of my wire work is free form, more structured, geometric shapes often inspire me, particularly circles and spirals. I guess it's something in the Celtic blood.
Fresh, sea air always clears my head and gets my creativity going.
Sometimes elements of the sea creep into my designs:
undulating wavy lines or starfish charms, for example. Dunlaoire Harbour, South of Dublin, is one of my favourite quick getaways from the city. Here I can breathe and think.
Howth, in North Dublin, is another accessible haven away from the hustle and bustle.

A walk along the pier usually throws up some interesting shapes and textures; lobster pots, old rusty pieces of metal, even brightly coloured moss.
Now that I think of it, I do have quite a lot of green jewellery in my Etsy shop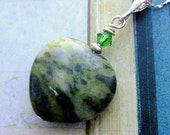 The pebble beaches found along the Dublin coast can dig up some fabulous treasures. There's nothing I find more inspiring than hunting out beautiful pieces of seaglass and pottery. Sometimes it can be hard going and I come away empty handed and disappointed. If there's been a storm I can get a bountiful haul of pirate treasure that makes it very worthwhile.
My summer holiday to Valencia, Spain, provided me with the rest I needed after a serious slump in creativity. I didn't find a single piece of seaglass on the beaches, but I did find a few pieces of beachworn tile.
This autumn I donned my hiking boots for the first time in years. Lough Dan in nearby County

Wicklow was breathtaking...in more ways than one! The hill up the forest trail to get there nearly killed me!
The
lake water is naturally coloured brown from peat in the soil. I made a lot of brown jewellery and green Connemara marble items after this hike.
In 2012 I intend getting out in the hills more often so I can get fit for an Alpine holiday next year.
Wherever I go, my camera and maybe even a sketch book will come with me.
Great Pictures Anne-Marie
Thank you for sharing with us!
You can see what Anne-Marie has made with some of her finds
in her Etsy Shop
Handmade by Amor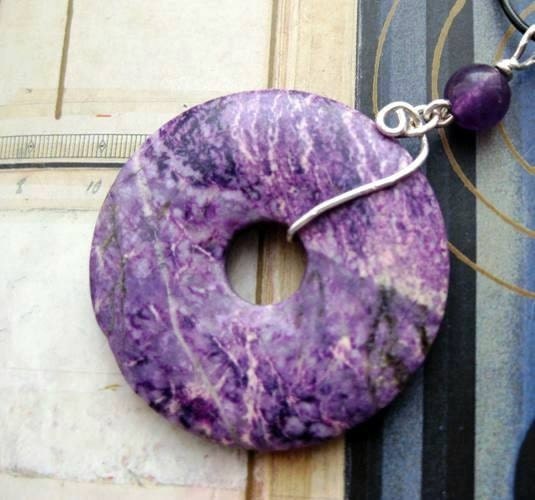 Purple Stone Pendant. Wire Wrapped Jasper Donut. 'Fruit of the Forest'
Full of fab pendants and jewellery made with Irish Gemstones
Check out Anne-Maries blogs
http://amor.craftblog.eu/
http://handmadebyamor.blogspot.com/
And you can follow her on twitter
https://twitter.com/#!/handmadebyAMOR
If you would like to take part in
Eyes Open Ireland
or email me at
Until Next Time