The following post first appeared on my own blog Handmade by Amo'r:
Has the clasp come away from your necklace or perhaps you want to convert a charm into a pendant and need a simple ring/bail for hanging it? Whether you are doing a bit of DIY repair on your own jewellery or are a beginner in beading and wire work, learning to make jump rings is a
handy skill to have. You can buy jump rings, but if you know how to make them yourself, you need never run short.
All you need is
*craft wire
*a round nose pliers
*a side cutter
All are available in jewellery craft stores and widely sold online.
If you are serious about wire work, a
hammer and block
is a recommended investment alongside a full set of pliers for jewellery making. I use a rubber tip hammer to harden jump rings, earring hooks, metal charms etc. You can also get a soldering kit to seal the rings, but a well-made, properly handled jump ring should stay shut with normal wear.
The wire needs to be hard enough to hold its shape. Look for the ga number or mm to find the gauge. A good, semi hard wire for beginners is gauge 20ga (.80mm) but 18ga (1mm) is preferable and with practice, go for harder again (16ga/1.25mm). If unsure, just ask for help from your chosen supplier. If you are a novice, it's best to practice with plated wires before moving on to more expensive metals such as sterling silver. I used solid copper for these photos:
Wrap some wire a few times round the base of one prong of the pliers. The higher up you go, the smaller the top jump rings will get. If you want them the same size, only make a couple at a time and wrap them on the same spot on the prong. Make a small coiled spring as shown, slide it off the pliers and cut along it at an appropriate point.
handmade copper jump rings
Personally, I would always harden the rings using a rubber hammer and block. Click for instructions on
How to Harden Jump rings etc.
Now they are ready to use for repairing your own jewellery or incorporating into your designs.
There is a secret to opening and closing jump rings correctly so as to preserve their integrity and keep them strong and tight. Please read
How to Open and Close Jump Rings..
.
Jump rings are the simplest way to re-attach a clasp. If you have a soldering kit to seal them, then all the better. However, if the ring is well-made in a hard wire and was opened and closed correctly, it should hold without soldering.
A jump ring serves as a bail to hang a charm or pendant
You can make a jump ring to attach to a small charm and wear it as a pendant, attach to a bracelet or perhaps to a zipper.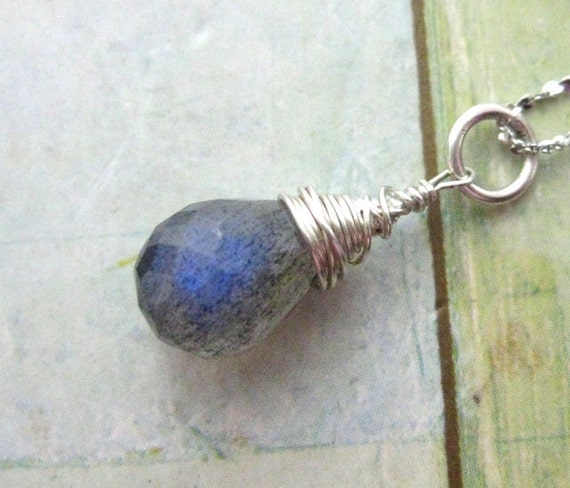 blue flash labradorite pendant with ring bail